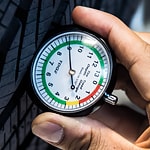 Neglecting your tires can lead to a potentially bad situation. If the tire tears apart while driving, then the car might crash. Driving on cracked, dry-rotted tires increases the risk of such a disaster occurring. Checking the sidewalls for cracks would reveal those tires should be replaced.
Visually checking for bumps and blisters also proves advisable. Decent tires won't present defects. Keep an eye out for such things, so you don't make the mistake of driving on dangerous tires. Get them replaced without delays.
Always measure the treads to determine how much is left. Low treads aren't capable of providing traction. Perform the classic penny test to get an idea of tread depth. Do you see the top of Lincoln's head? If so, those treads are low, and the tires may be too worn to drive on.
Come to the service department at Tony Hyundai Waipio to get new tires. Our team handles other maintenance requests for drivers in Waipahu, as well.